Finally back to this blogging lark after taking time out to write my own book (that will never see the light of day!). I present to you my review of Crooked Kingdom.
Some information about this book:
Release date: September 27th 2016
Published by: Orion
Pages: 536
Genre: YA Fantasy
Series: Grishaverse (Direct sequel to Six of Crows)
Blurb:
Welcome to the world of the Grisha.
Kaz Brekker and his crew of deadly outcasts have just pulled off a heist so daring even they didn't think they'd survive. But instead of divvying up a fat reward, they're right back to fighting for their lives.
Double-crossed and badly weakened, the crew is low on resources, allies, and hope. As powerful forces from around the world descend on Ketterdam to root out the secrets of the dangerous drug known as jurda parem, old rivals and new enemies emerge to challenge Kaz's cunning and test the team's fragile loyalties.
A war will be waged on the city's dark and twisting streets – a battle for revenge and redemption that will decide the fate of the Grisha world.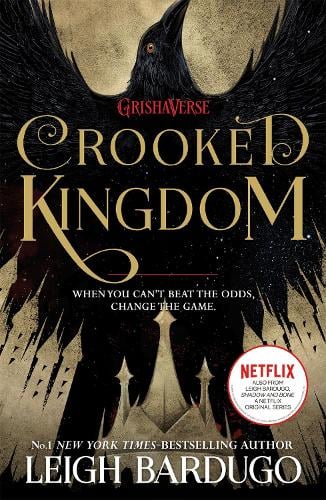 It has taken me a while to get round to reading this sequel to the Six of Crows and I'm ashamed to admit it since SoC is brilliant but I've been busy since I last wrote a review. I've changed jobs twice, increased my reading and I've been hosting the Cosmere Conquest event on the Discord channel (find more information about this in my pinned tweet on Twitter).
When I got some time free after Mistborn Era 2 to read a book I picked this one immediately because I expected it to be light, fun, easy to read and have some great twists and turns. I was not disappointed.
Returning to Ketterdam, where the book is set, is like returning home. There are your friends, the people you'd rather not speak to and the familiar buildings, alleyways and features you know and love. This story picks up exactly where the previous book left us. The team have been betrayed by Jan Van Eck and have to now find a way to escape their predicament and get revenge on the man who has double crossed the Crows.
This is not a heist story, much like the first popular book but it does have a lot of planning for various events, lots of team-building 'exercises' which bring various personalities together and has twists and turns, as you'd expect.
I think what Leigh does particularly well in this book is character creation and world-building. The magic is there but it isn't at the forefront of this book and to be fair, it doesn't make it a bad book. If anything, making the magic rarer serves the story since people generally do not like Grisha (people that can perform magic).
The chapters are broken down to focus on a character and this makes the telling of the story very intimate since you will find your favourite character(s) and want to keep reading to find out what else has happened to them. Each person is believable, real and carries with them a rich personality which is carefully developed with circumstances they find themselves in. I'd go as far to say that these characters and their arcs are the best thing about this story – it's really rich for a YA book.
"No mourners. No funerals."
The worldbuilding is great and I'm aware that there are another 5 books in the Grishaverse (1 trilogy and another duology). This can only help to serve building this world up since this book primarily speaks and definitely focuses on Ketterdam which is like a seedy city with boats coming and going, gambling dens, whorehouses and everything in-between.
Leigh does a brilliant job of planning out the twists and the big events in the book. You get to see what is being planned and you don't know how the characters will get out of it when it goes wrong and then something happens and you're just left turning the page for more since you never saw any of it coming. It's all very clever stuff.
If you have never read Six of Crows then you really should put it near the top of your TBR and if you have but haven't read Crooked Kingdom yet then I suggest you do the same. This is a brilliant, YA story packed with enough action and character development to rival many epic fantasy books. I'm personally really excited to read the other books in the Grishaverse now!
This book is a 5/5 for me and I would recommend this to anyone who wanted a good story (read SoC first though!).
If you would like to add Crooked Kingdom to your Goodreads TBR you can do so by clicking here.
You can purchase this book on Amazon UK or Amazon US.
If you like science fiction and fantasy books then consider joining The Oasis Discord here – it's free and has a great community, buddy reads, community reads and much more!