Welcome to the second entry in my new series, So you've played… In this series I will be taking a popular game or game series that I have enjoyed and be providing books that are of a similar nature since a lot of people that play games also read SFF books and vice versa.
This week I am taking you into outer space, galaxies new and (hopefully for you) undiscovered. The Mass Effect games were and still are phenomenal. Spanning numerous games they followed a dysfunctional and diverse crew that you chose through actions and gave you the ability to really interact with them through conversation, choices on the battlefield and ahem… safe sex (well as safe as it can be sticking your pointer into an alien reproductive system). Their mission was to defeat a reaper which essentially was an evil life form that devoured planets. I have played them and loved them, now it's the time to find out what books you can read for similar vibes.
Stormblood
Stormblood should come as no surprise to those of you that have had the pleasure of reading it. This book is a modern entry into the sci-fi genre and is currently sitting on Goodreads with a rating of 3.73 after 328 reviews. Stormblood follows our main protagonist Vakov Fukasawa. He used to be a reaper, a bio-soldier fighting for the intergalactic governing body of Harmony against brutal invading enemies. However,, now out of the war he finds himself fighting his own personal demon in the form of stormtech – the DNA of an extinct alien race which was injected into him to give him a constant addiction to adrenaline and aggression, making him the perfect killing machine. Only now the perfect killing machine has no-one to kill… until he finds out that his former allies are being murdered one by one and that his baby brother is caught up in it all.
What Jeremy has done in this book is more grittier than anything I've read before. He has created a vibrant, bright world universe where aliens exists with humans and danger is literally in the next chapter. His character creation is brilliant, the bad guys more brutal than I care to remember (his treatment of the main character will make you wince) and the stakes higher than you will expect them to be. Throw in some twists you won't see coming if they were in a ambulance with the blues and twos going and you've got here an exciting ride that oozes Mass Effect vibes (also Red Rising trilogy vibes). The sequel to Stormblood, Blindspace, is out October 28th so if you can read Stormblood before then you'll be ready for Blindspace.

You can get a signed copy of Stormblood here and a pre-order here for Blindspace from Broken Binding and get 5% off using the code BLURB5 on all your orders.
You can add this book to your tbr here.
The Long Way to a Small Angry Planet
A Long Way to a Small Angry Planet oooooozes Mass Effect vibes maybe more than any other book on this list. This book is the first book in a quadrilogy by Becky Chambers called The Wayfarers and published by Hodder & Stoughton in March 2015. It has also won a HUGO award for best series.
TLWTASAP is what I would call Space Opera. It is a Sci-fi book but it's more a gliding adventure in a spaceship as opposed to the rampant action provided by a Sci-fi book like Stormblood.
While TLWTASAP doesn't offer rampant action, what it does offer is the excellent writing of brilliant characters brought together through various small battles as they traverse across the galaxy on a job that will pay them a lot of credits. The main character you follow has forged her way onto the ship filled with a human and alien crew, all with their own, very unique personalities and you essentially get to grow with the crew and feel a part of their journey as the protagonist finds her way around an alien environment on a journey to a small angry planet.
It's a lovely book that is super comparable to Mass Effect for all the best reasons. The crew and their individual relationships feel so real and you just want to be a part of it. If you loved the crew elements of Mass Effect, then you will love this book.
You can order a copy here from The Broken Binding and use the code BLURB5 for a 5% discount on your orders.
You can add this book to your tbr here.
Leviathan Wakes
Leviathan Wakes is a book that I have not read yet but I have seen a couple of episodes of the very popular TV show on Amazon and this is definitely for fans of Mass Effect.
This book is a science fiction story by James S. A. Corey, which is the pen name of Daniel Abraham and Ty Franck. It is the first book in the Expanse series which is also the name of the TV show.
I suppose this book is a mix between Mass Effect and Stormblood. It has a large crew who have problems with each other and even bigger issues to overcome outside of the ship with great Sci-Fi action starting with an allien artifact (from the reviews and the first two episodes I've seen).
This is a large book series with currently ten books in the series so plenty to keep you occupied if you're looking for something new and expansive. 😉
You can add this book to your tbr here.
Shards of Earth
Since I read the Sci-Fi novella, 'One Day All This Will Be Yours' by Adrian Tchaikovsky (and reviewed it here) I have been looking for an excuse to read another of his stories. Initially I learned that Children of Time has spider characters in space and thought that would be the one I would list here since there is a good comparison. The Rachni are a spider species in Mass Effect having threatened the citadel about 2,000 years before the Rachni wars and you make a life or death decision about their queen in Mass Effect 3. However, I think that Shards of Earth, literally released this week and the first book in a new trilogy called The Final Architects was a better fit.
The blurb for this book sounds brilliant and essentially tells us (in very laments terms) that humans created super soldiers to fight the aliens but then the aliens vanished. Fifty years later and the super soldiers discover something in space, something alien. The super soldiers are now being hunted by gangsters, governments and more for the thing they have found. This reminds me of the various races and parties in Mass Effect that all have their own agendas while Commander Shepherd and his crew have their own. The proper blurb can be found here (sorry for butchering it Adrian!).
You can buy a signed edition of this book from Broken Binding here. Use the code BLURB5 for a 5% discount on your order too!
You can add this book to your tbr here.
Nophek Gloss
Nophek Gloss sounds like a paint in Warhammer but it is much much more than that. This is a debut sci-fi novel that packs a punch. I know because I've been told so. Sitting on my Kindle since December 2020 it has fallen victim to the curse of the tbr and I'm going to be reading this soon because the sequel is out in February 2022.
Where you have Commander Shepherd in the Mass Effect games, in Nophek Gloss you have your main protagonist, Caiden. His planet is destroyed, his family gone and his only hope for survival is a crew of misfit aliens and a mysterious ship. This alone screams Mass Effect since you run around with a crew of misfit aliens, robots and other things choosing who you want to take with you on your missions.
As a crew they traverse the universe but it hides dangers and soon Caiden has to formulate his own plans. He vows to do anything it takes to get revenge on the slavers who murdered his people and took away his home. This is essentially a revenge story and when you factor in a mysterious ship, misfit crew each harboring their own secrets, a really well received debut with a sequel out in 6 months… I mean do you need me to keep going on for you to read this?

Get it here at Broken Binding and use the code BLURB5 for a 5% discount on any orders! You can also pre-order a signed copy of the sequel, Azura Ghost, here.
You can add this book to your tbr here.
The Last Watch
The Last Watch by J.S Dewes is a book that has had some hype in the book community on Twitter lately and for good reason. It sits on Goodreads with a very respectable rating of 4.06 after 1,597 reviews. That's a very good result for a debut novel.
The reason I have added this book is because it has a very much end of the universe feel about it from the blurb and this reminded me a lot of Shepherd and his rag-tag crew in Mass Effect 3 trying to fight the Reapers. The divide is the edge of the universe (flat earthers will love this) and it's collapsing and taking everything and everyone with it. The only ones that can stop it are the Sentinels – a rag-tag crew of recruits, exiles, and court-martialed dregs of the military.
This has a tag line of The Expanse meets Game of Thrones and this reminded me of the diplomacy you had to deal with during the Mass Effect trilogy but it also sounds awesome plus it's a debut author so you know I'm down.
You can add this book to your tbr here and you can add the sequel, The Exiled Fleet which is out this month to your tbr here.
Embers of War
The ship in Mass Effect, the SSV Normandy SR-1 (Systems Alliance Space Vehicle Normandy Stealth Reconnaissance-1) was a Systems Alliance starship that you flew around galaxies exploring throughout the games. You could upgrade it and essentially it was your base. In Embers of War by Gareth L. Powell, this ship is called Trouble Dog and is a warship with a mind of its own.
Trouble Dog was built for war but following a brutal war finds herself troubled and disgusted by the part she has played. She relinquishes her role for a new one where she is to help locate ships in distress and rescue them and their crew. She loses her weapons, her crew and everything she has known to pursue this new life of peace only trouble is never too far away.
With a misfit crew, old alliances and a new missing ship with a VIP on board, Trouble Dog needs to learn how to trust again and might even need to learn how to fight if she and her new crew are to survive.
This sounds like a very different story although much like some of the other books in this list, the misfit crew is something I personally love. Throwing together miscreants of the universe together and saying 'here work it out' is the recipe for some brilliant conversations and character arcs if done right. This book is currently sitting with a respectable 3.92 rating after 4,059 ratings so I'd say that it's been done right.
You can add this book to your tbr here.
The Omega Drive
The Omega Drive is a self published book that I wanted to include because as a future post this coming week will show, authoring books into the dizzying heights of Tolkien, Rowling or anyone else who even writes full time is very hard.
The Omega Drive is a story about The Coyotes – a motley crew of six former soldiers who, hired by the Solar Assembly, must track down an artifact to stop the Galactic Syndicate from gaining control of the galaxy. This has been hailed as an action packed adventure for fans of Firefly and Guardians of the Galaxy. It is on the Kindle Unlimited subscription (as well as being available separately and in paperback) so if you are looking for a reasonably length-ed book (337 pages), maybe give The Omega Drive a go. It's currently sitting at 4.60 on Goodreads.
You can add this book to your tbr here.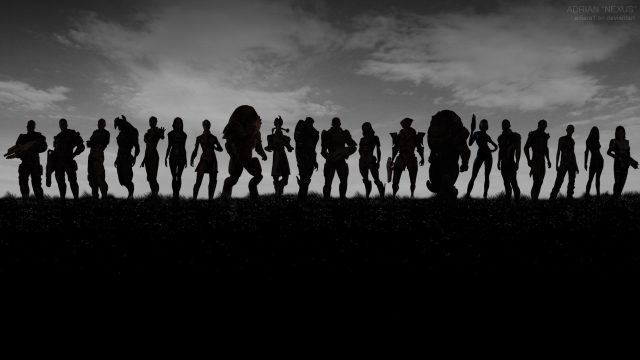 That is it for this week's So you've played post – I think there will be a lot more sci-fi books out there with similarities to the Mass Effect series by Bioware because they encompass lots of popular ideas over multiple games but these are the ones I've either read, been recommended or found and thought matched elements from the games. I really hope you've enjoyed this blog post and I'll be back next Saturday with a new game and some new recommendations!
If you like science fiction and fantasy books then consider joining The Oasis Discord here – it's free and has a great community, buddy reads, community reads and much more!