As I write this post out I glance across at my physical TBR and scroll through my Kindle TBR with shame. Shame that I have made a subconscious promise to read these books but for various reasons have not got round to them yet. In this article I'm going to give you every SFF series that I own, haven't started yet but am excited to get to.
---
The Red Rising Saga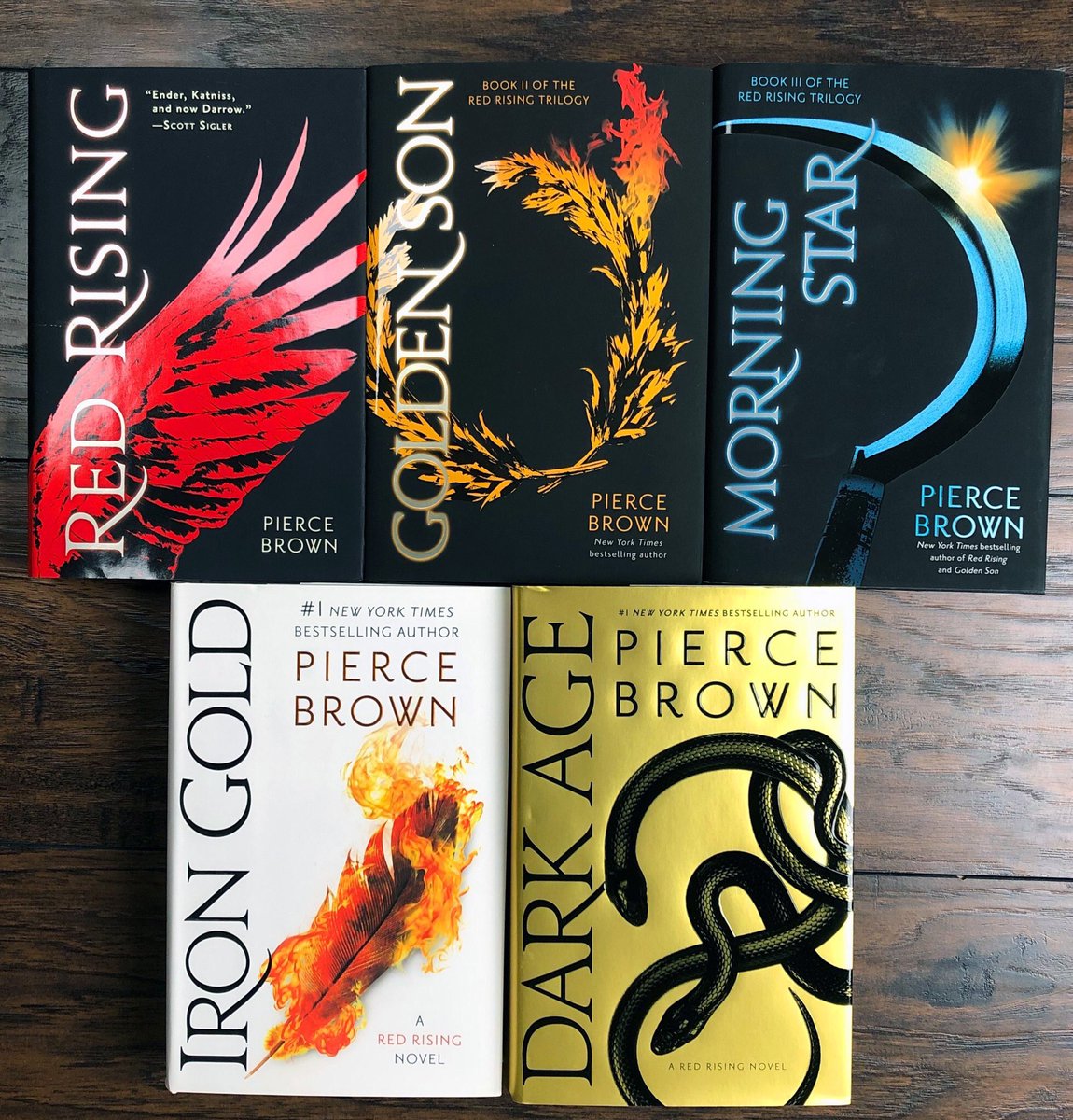 The Red Rising saga. Potentially the biggest shaming of my TBR so I thought let's just get it out the way! Full disclosure, I have read Red Rising but I am yet to start the others. They sit on my desk staring at me as I work. The crazy thing about this series is that I absolutely loved Red Rising so I don't know why I haven't continued it. I think maybe it's because the first book is so good I'm worried the rest won't live up to the hype… Do they?

The Red Rising books sit on Goodreads with ratings of 4.23, 4.43, 4.47, 4.21 and 4.43. A 6th book is also in the works.
---
The Mortal Engines Quartet
Now those among you who could challenge Carol Vorderman to a game of mathletics will see that I've put quartet but there are seven books. Well smarty pants – the bottom four books from right to left are the Mortal Engines quartet and the three above are a prequel series about one of the main characters.
Again I will point out I have read Mortal Engines #1 but for only God knows what reason, I haven't started the others. Mortal Engines is a story set in a dystopian world where cities are no longer bolted into the earth, they move around on giant wheels and tracks. Cities like London travel across a barren world devouring other cities, taking their resources and putting their inhabitants to work. Small towns hide from cities like London but London has things to fear itself. A mad man wants to build a weapon to kill innocents who have no part in the world's atrocities and a young man finds himself caught up in a plot to stop him.
This book features some really cool characters with different backgrounds, a weird love triangle which is anything but romantic and a lot of action involving cities, towns, balloons and a cyborg to name a few. There is also a film that is based off the first book. It's not bad to be fair and covers everything that happens in the book but on the big screen so maybe watch that and if you like it you can invest time/money in the books.
The covers I have shown you above are the really nice new ones but it's the old ones that I want to collect since they look really really cool. There are two different variations of the old ones but here is one of them: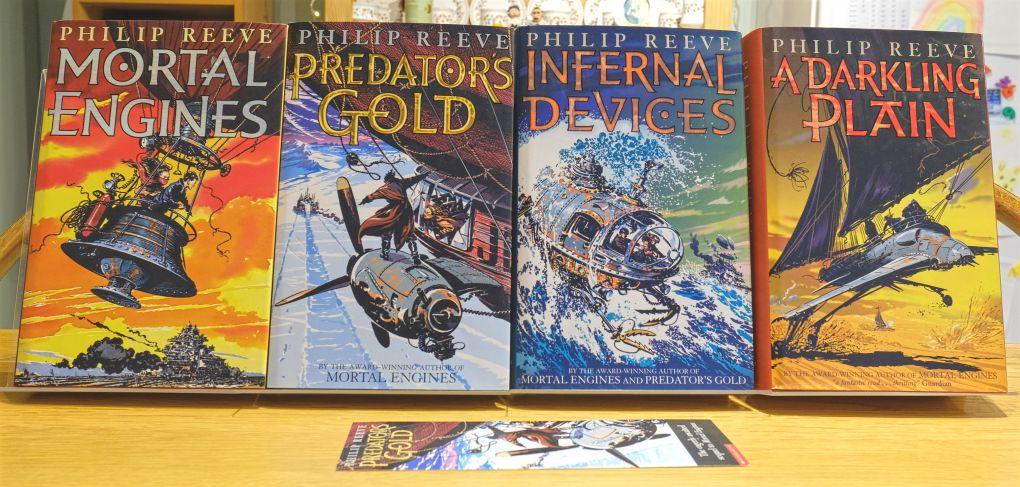 The books sit on Goodreads here with ratings of 3.77, 3.95, 3.89, 4.19, 3.72, 3.92 and 3.98.
---
The Faithful and The Fallen
The Faithful and The Fallen (TFATF) is a series that in the last few years has rocketed itself through the SFF community as people got into the brutal books carefully woven by all-round gentleman, John Gwynne.
The books are still sitting in their plastic wrapping on my desk and I swear I will read you (at some point!). All I ever hear about these books are amazing comments. I have purposefully not read anything about them including the blurb because I want to go into these books and enjoy them without expecting anything except I do know that there is an animal companion and giants (I think).
These books sit on Goodreads here and have ratings of 4.14, 4.40, 4.45 and 4.49.
---
The First Law Trilogy
Ah, Joe Abercrombie. I was wondering when he was going to pop up. Well I bought The First Law trilogy earlier this year with every intention of reading it to assist me with my own writing for character development. I've not read them yet of course otherwise they wouldn't be on this list (sorry Joe). I'm not sure if there are three books, four or six in this series but I've got the three wrapped up together so I'm going to stick with trilogy for now.
I've heard things about a Logan 'ninefingers' so assuming he had one cut off or technically grew one finger since we have eight fingers and two thumbs. #micdrop
I've heard that he is also quite a grimdark author and this will be fun because I loved Game of Thrones when George went all angry with the characters. I know these will be good books, the sheer amount of hype around them whenever they're mentioned instantly tells me they need to be read.
Not sure how I feel about the covers though – not exactly screaming read me but then maybe that makes them scarier because they don't need me?…
They are sitting on Goodreads here with ratings of 4.17, 4.29 and 4.28.
---
The Rampart Trilogy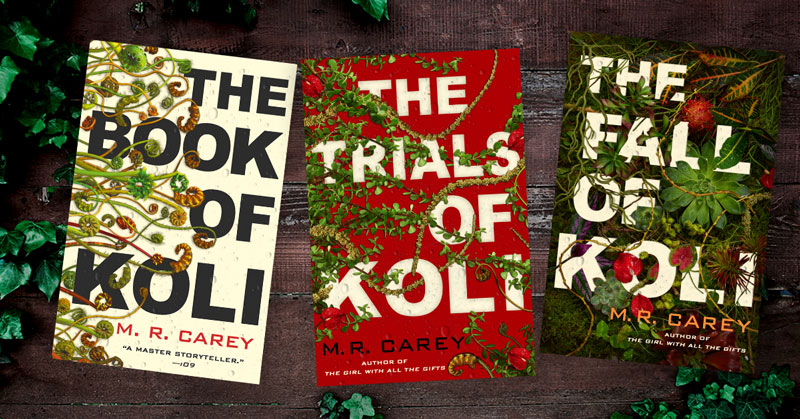 The Rampart Trilogy is a set of books that have brilliant covers. They initially attracted my attention because I immediately thought of Jumanji – you know when the plants come out and take over the house and almost eat Peter? That. It's just a cool idea. Having read the blurb it confirmed that this was basically how the plants were going to be – lethal and unforgiving, unable to show compassion and deadly to touch.
Other than the fact it has dangerous plants in it I really don't know anything about it. They aren't the biggest books in the world and you'll know from my previous post, I like small books and I cannot lie, that I like normal sized books or 300-500 pages.
Currently these books are sitting on Goodreads with ratings of 4.06, 4.30 and 4.49. I mean 4.5 for an average rating of the final book in a trilogy? How good must that ending be!
---
Shadow & Bone
The Shadow and Bone trilogy by Leigh Bardugo are YA Fantasy. They're linked to the popular Six of Crows books as they are in the same world (The Grishaverse) and they feature some familiar faces. If you've not seen, the tv show of the same name is on Netflix and after watching it I'd say it's quite good.
I got these as a birthday present from some friends this June from my Amazon wishlist. I really liked Six of Crows and Crooked Kingdom giving them both 5 stars and wanted more of this world and its magic. The tv show this spring has only reinforced this and they aren't huge books either. For me, I sometimes like reading some YA because it's fun and light, easy to devour and not hard to absorb.
The books are currently on Goodreads here with average ratings of 3.97, 3.89 and 4.06.
The Mortal Techniques trilogy
These books are all standalones. They are set in the same world and some of the characters may cross over but they are not in a certain order to read. Rob told me, when he sent me the ARC for Spirits of Vengeance, that I can read that one right away.
I own the first two books in this picture in paperback and haven't started them because well I've just been busy. At the time of writing this article though I have just finished Spirits of Vengeance and you can read why I gave it my highest ever rating here.
The blurbs for these books sounds fantastic, the covers look incredible and I really can't wait to jump in and see what they're all about.
Add them to your Goodreads TBR here. The ratings for the first two released books are 3.91 and 4.36. Currently Spirits of Vengeance sits on Goodreads with a rating of 4.75 The first two books are also on Kindle Unlimited.
---
The Combat Codes saga
The Combat Codes saga is an usual SFF book entry. For one it's focus is fighting much like what you see in a UFC event. These books by Alexander Darwin have been well received in the community which would have been significantly helped by the fact The Combat Codes was a SPFBO Award Finalist for Best Fantasy Book (2020) (Self Published Fantasy Book Off – A competition for Self Pubished authors set up by Mark Lawrence).
I have these on my Kindle and I'm looking forward to see how Alexander has incorporated a world around a combat system. The covers are really gorgeous to look at. I really like how they have an outline at the top of them making them look like movie posters.
You can add these books to your Goodreads TBR here. They sit with ratings as follows: 3.99, 4.22 and 4.10 and they're also part of Kindle Unlimited.
---
So there are nine series on my TBR, both physical and Kindle, that I am really interested in getting to sooner than later. Have you read any of these? Let me know in the comments or respond to the tweet on Twitter letting me know what you've read and your thoughts!
If you like science fiction and fantasy books then consider joining The Oasis Discord here – it's free and has a great community, buddy reads, community reads and much more!
Have a great day!