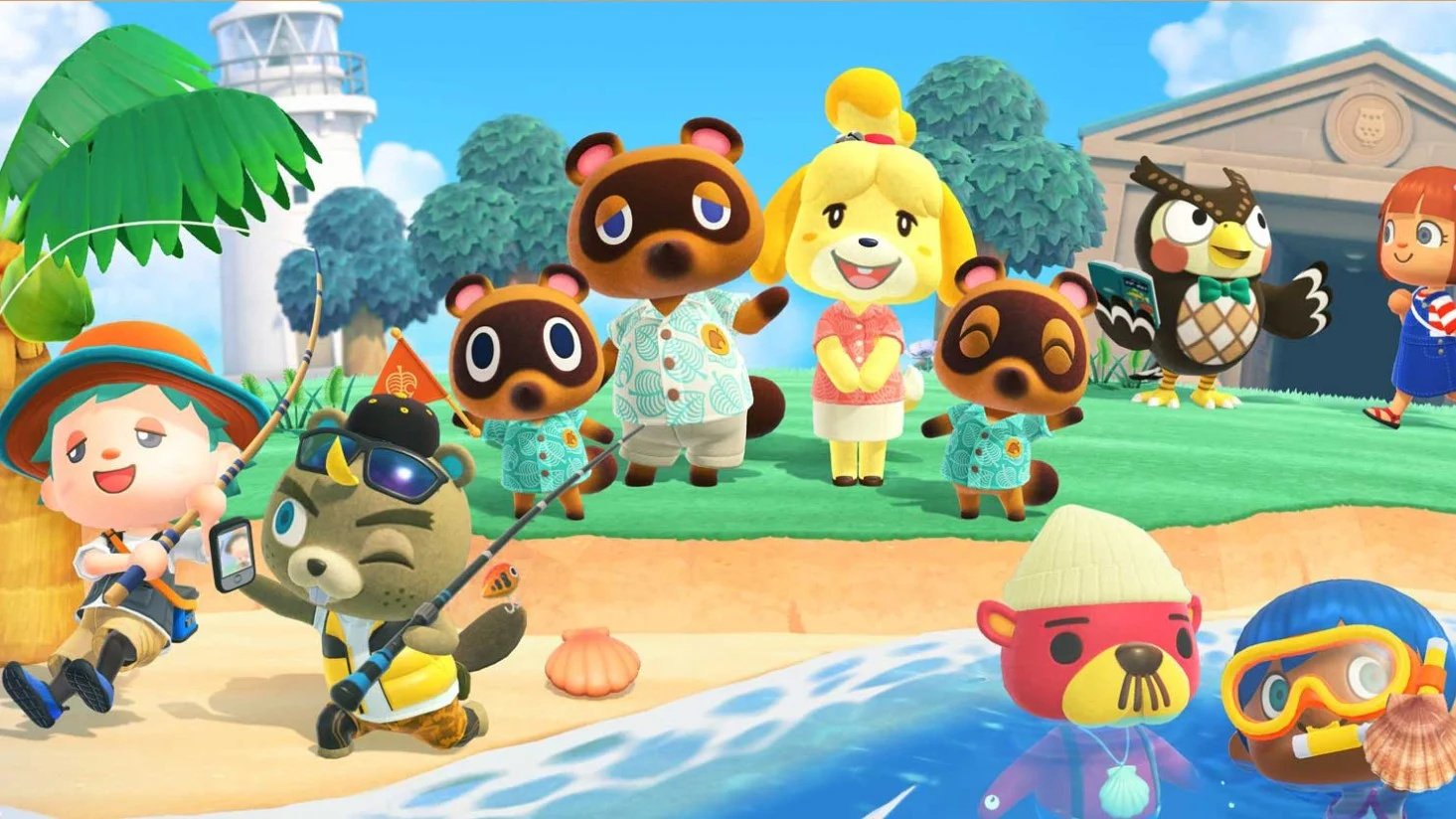 Welcome to the newest entry in the So You've Played series! This week I'm going to be recommending books based on Animal Crossing: New Horizon. Animal Crossing is a very popular game series that is exclusive to NIntendo. It started in Japan and is a very chilled game. I played the original one and loved it. The game is a bit like Harvest Moon in the sense that you start with very little and have to work your way up to a bigger property, better tools and stronger friendships with the animals who live in your village. The animals talk, own houses and take part in the seasonal events such as snowman making or fishing tournaments. It's a fantastic game for all ages.
As this is called Animal Crossing, there is a huge emphasis on the animal part of that name in the fact that I'm going to be recommending books with animal companions so let's get into it!
---
Assassin's Apprentice
Born on the wrong side of the sheets, Fitz, son of Chivalry Farseer, is a royal bastard, cast out into the world, friendless and lonely. Only his magical link with animals – the old art known as the Wit – gives him solace and companionship. But the Wit, if used too often, is a perilous magic, and one abhorred by the nobility.
So when Fitz is finally adopted into the royal household, he must give up his old ways and embrace a new life of weaponry, scribing, courtly manners; and how to kill a man secretly, as he trains to become a royal assassin.
So the character Fitz has a magical link with animals and this gives him a strong bond with a certain animal called Nighteyes. Now I have this book on my shelf and I'm desperate to read it as it's a part of a much bigger world that Robin has created. I don't know what animal Nighteyes is but I can hazard a guess.
You can add this book to your Goodreads TBR here.
---
His Majesty's Dragon
Aerial combat brings a thrilling new dimension to the Napoleonic Wars as valiant warriors ride mighty fighting dragons, bred for size or speed. When HMS Reliant captures a French frigate and seizes the precious cargo, an unhatched dragon egg, fate sweeps Captain Will Laurence from his seafaring life into an uncertain future – and an unexpected kinship with a most extraordinary creature. Thrust into the rarified world of the Aerial Corps as master of the dragon Temeraire, he will face a crash course in the daring tactics of airborne battle. For as France's own dragon-borne forces rally to breach British soil in Bonaparte's boldest gambit, Laurence and Temeraire must soar into their own baptism of fire.
This book by Naomi Novik sounds really good and seems to mix modern (HMS Reliant) with fantasy (dragons…). On top of that it literally takes the most well known and possibly popular fantasy creature and has it bond with the protagonist to save Britain. This is also the first book in a series of nine so there is plenty to keep you going if you like animal companions and/or dragons.
You can add this book to your Goodreads TBR here.
---
Through Wolf's Eyes
Firekeeper only vaguely remembers a time when she didn't live with her "family," a pack of "royal wolves"-bigger, stronger, and smarter than normal wolves. Now her pack leaders are sending her back to live among the humans, as they promised her mother years ago.

Some of the humans think she may be the lost heir to their throne. This could be good-and it could be very, very dangerous. In the months to come, learning to behave like a human will turn out to be more complicated than she'd ever imagined.

But though human ways might be stranger than anything found in the forest, the infighting in the human's pack is nothing Firekeeper hasn't seen before. That, she understands just fine. She's not your standard-issue princess-and this is not your standard-issue fairy tale.
I hadn't heard of this book until I began writing this article but this sounds brilliant! Firekeeper has grown up with royal wolves and now she is being sent back to live with the humans. She is more wolf than human but might be the rightful heir to the throne which is going to put her in more danger than living with the wolves.
This is the first book in a series of eight and you can add this book to your Goodreads TBR here.
---
Blue Moon Rising
Rupert didn't especially want to be a prince. And he certainly never asked to be the second son of a royal line that really didn't need a spare. So he was sent out to slay a dragon and prove himself-a quest straight out of legend. But he also discovered the kinds of things legends tend to leave out, as well as the usual demons, goblins, the dreaded Night Witch-and even worse terrors hidden in the shadows of Darkwood.

Rupert did find a fiery dragon-and a beautiful princess to rescue. But the dragon turned out to be a better friend than anyone back at the castle, and with the evil of Darkwood spreading, Rupert was going to need all the friends he could get.
When I recommend books on these articles I always look for books that genuinely look interesting, exciting or fun as this is what I would want to read. I don't always add the books to my TBR but this one has been added because it just sounds really good. It's got a prince who has to slay a dragon – pretty classic fantasy. Then you add in demons, goblins and a Night Witch plus an evil forest. Then the dragon and prince seem to team up to save a princess. This is also the first book in a series of five so plenty of adventure to get through. It all sounds very good and will appeal to many but maybe more to those readers who like their fantasy classic.
You can add this book to your Goodreads TBR here.
---
Dragon from the Desert
The biggest problem in fifteen year old Raif's life used to be finding lost goats. Now, apprenticed to a terrifying war wizard he is caught in the web of intrigue and assassination surrounding the heir to his home kingdom. And if that was not enough he becomes foster parent to an orphaned dragon. He must do his best to make sure he and his new friend survive the dangers of the deadly world in which they find themselves.
I always like to promote books that are maybe not as well known as others or have been self published because you can really find some amazing stories that have not been published by a major publisher. Dragon from the Desert is book one of the Dragon Bond Saga and currently has 418 ratings and an average rating of 4.27.
The book sounds really good from the blurb. A potentially coming of age book with a war wizard, assassins and an orphaned dragon. The second book, A Dragon in the Palace, is out now too.
You can add this book to your Goodreads TBR here.
---
Wild Magic
Thirteen-year-old Daine has always had a special connection with animals, but only when she's forced to leave home does she realize it's more than a knack—it's magic. With this wild magic, not only can Daine speak to animals, but she can also make them obey her. Daine takes a job handling horses for the Queen's Riders, where she meets the master mage Numair and becomes his student.
Under Numair's guidance, Daine explores the scope of her magic. But she encounters other beings, too, who are not so gentle. These terrifying creatures, called Immortals, have been imprisoned in the Divine Realms for the past four hundred years—but now someone has broken the barrier. And it's up to Daine and her friends to defend their world from an Immortal attack.
This is a young adult (YA) story about a young girl who can communicate with animals. The girl takes a job in the palace and encounters a mage, becoming his student. Her use of the magic she handles brings Immortals, creatures who have been imprisoned for four hundred years in the Divine Realms. This definitely sounds very much a book for those that either love animals or enjoy YA but the cover just looks so good (there are different ones) with the badger climbing what appears to be a wall or door.
You can add this book to your Goodreads TBR here.
---
The Bone Shard Daughter
The emperor's reign has lasted for decades, his mastery of bone shard magic powering the animal-like constructs that maintain law and order. But now his rule is failing, and revolution is sweeping across the Empire's many islands.
Lin is the emperor's daughter and spends her days trapped in a palace of locked doors and dark secrets. When her father refuses to recognise her as heir to the throne, she vows to prove her worth by mastering the forbidden art of bone shard magic.
Yet such power carries a great cost, and when the revolution reaches the gates of the palace, Lin must decide how far she is willing to go to claim her birthright – and save her people.
I have TBSD on my shelf in front of me as I write this article and I didn't know it had an animal companion but after doing some research into a comment I saw online I've found that there is an animal companion to one of the characters in the book. I don't think it's the emperor's daughter, Lin, but someone that she interacts with or befriends.
You can add this book to your Goodreads TBR here.
---
A Song of Ice and Fire
Summers span decades. Winter can last a lifetime. And the struggle for the Iron Throne has begun.
As Warden of the north, Lord Eddard Stark counts it a curse when King Robert bestows on him the office of the Hand. His honour weighs him down at court where a true man does what he will, not what he must … and a dead enemy is a thing of beauty.
The old gods have no power in the south, Stark's family is split and there is treachery at court. Worse, the vengeance-mad heir of the deposed Dragon King has grown to maturity in exile in the Free Cities. He claims the Iron Throne.
So…If you know, you know. There is a really good companion in this series and that is a huge direwolf (a wolf the size of a small pony) called Ghost who is essentially the life long companion of one man called Jon Snow. You will need to read all seven books (so far) to appreciate the epic fantasy in this amazing and powerful story and Jon and Ghost are only a small part since there are so many leading characters but the writing is so well done you won't mind if you don't hear from Jon for a few chapters.
You can add this book to your Goodreads TBR here.
---
Malice
Young Corban watches enviously as boys become warriors under King Brenin's rule, learning the art of war. He yearns to wield his sword and spear to protect his king's realm. But that day will come all too soon. Only when he loses those he loves will he learn the true price of courage.

The Banished Lands has a violent past where armies of men and giants clashed shields in battle, the earth running dark with their heartsblood. Although the giant-clans were broken in ages past, their ruined fortresses still scar the land. But now giants stir anew, the very stones weep blood and there are sightings of giant wyrms. Those who can still read the signs see a threat far greater than the ancient wars. Sorrow will darken the world, as angels and demons make it their battlefield. Then there will be a war to end all wars.

High King Aquilus summons his fellow kings to council, seeking an alliance in this time of need. Some are skeptical, fighting their own border skirmishes against pirates and giants. But prophesy indicates darkness and light will demand two champions, the Black Sun and the Bright Star. They would be wise to seek out both, for if the Black Sun gains ascendancy, mankind's hopes and dreams will fall to dust.
Another book on my shelf that I *swear* I will read at some point. I've heard this has lots of animals in it including a special one that is a companion. Add onto that amazing battle scenes, giants and brilliant writing and you've got a book you must read. This is also one of the series that I recently spoke about in my SFF series I'm excited to read article.
Add this book to your Goodreads TBR here.
---
So I've got nine books here all with animal companions. Hopefully this is enough to fill your desire to have more animals in your books. One thing I will say is that I found it super hard to find any Sci-Fi books with animal companions! If you know any please let me know here or on Twitter @BookishBenny. There are going to be other books I have left out or missed but that's something that can't be helped, even if the ones I missed out are some of your favourites! Maybe I've saved that book for a different article…
If you like science fiction and fantasy books then consider joining The Oasis Discord here – it's free and has a great community, buddy reads, community reads and much more!
See you next Saturday for another entry!