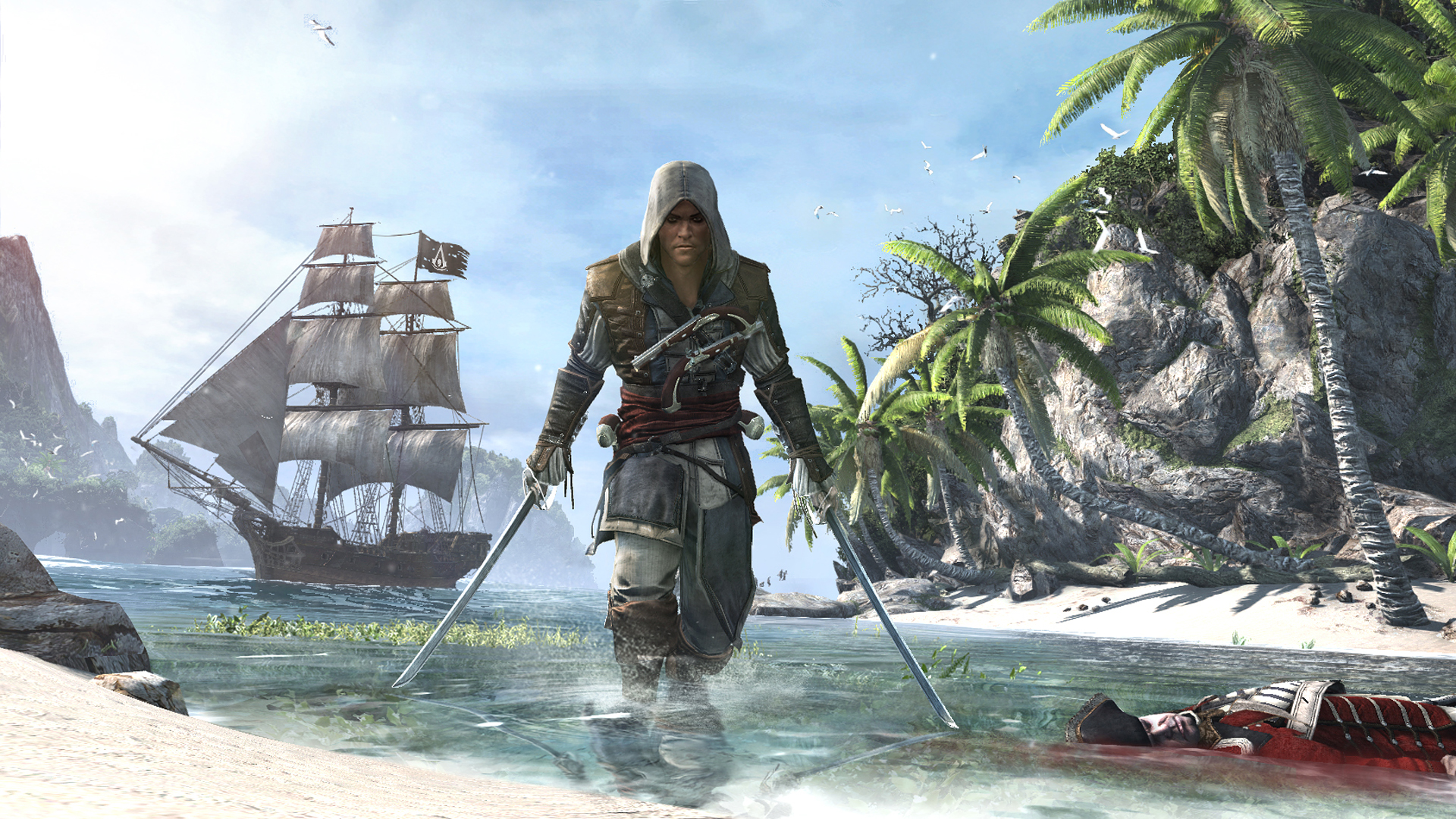 Arrrr… the fifth installment of So You've Played is here and so ye should be ready for books about pirates!
For those of you who haven't played the hugely successful Assassin's Creed games, they essentially put you into the footsteps of an assassin from a period in time. You play the whole game as them learning new skills, collecting new tools and most importantly assassinating people without getting caught. In Assassin's Creed IV: Black Flag, you did all this but had huge ships that you could steer, upgrade with weapons, paint and defences, collect treasure, fight monsters and of course fight other pirates!
This was the first time in the AC series that Ubisoft ventured into pirating and it was a big success. The naval battles were surprisingly in-depth and detailed. The water mechanics were really good with swimming looking really amazing – as long as you watched out for the sharks (or bigger creatures…).
I'm going to recommend to you SFF books below that all have pirates and are the first books in a series (or standalones) so get that tbr ready for more books! YAR!
---
Of Sea & Shadow/Of Shadow & Sea
This is a very interesting first book to recommend to you. Written by the well known Will Wight, there are two books which are parallel to one another. The book titled Of Sea & Shadow follows Calder Marten, Captain of The Testament. The book titled Of Shadow & Sea follows Shera, a woman who walks the shadows to set the world free.
Calder and his crew seek the legendary Heart of Nakothi, an artifact that could raise a second Emperor…and earn Calder a fortune. But they're not the only ones who want the Heart. For Shera, an assassin in the employ of the Consultants, the Emperor's death is the beginning of a nightmare. Powerful forces hunt the Heart of Nakothi, a cursed artifact that can raise a second Emperor…and corrupt him in the process.
They're essentially the same story but told from two different perspectives across separate books. There will most likely be crossover events and people so the fact that these books aren't spoken of more often is mind boggling to me. It's a real feat to write one book but to write multiple books from different perspectives and effectively write two separate series that are actually in the same world at the same time and released at the same time is incredible!
This doesn't stop with just the first book either. Book's 2 and 3 are also with their own stories so that gives you three books to read, letting you choose who's perspective you want to follow…unless you read both trilogies then that's six books of pirate action across The Elder Empire.
Current ratings on Goodreads vary but they are all above 4.0 so that's good news if this recommendation is tempting you. If you want to add the series to your Goodreads TBR then click here for Calder's story and here for Shera's side of events.
You can buy these books from Amazon UK here and here. You can also buy them from Amazon US here and here. They're a part of Kindle Unlimited too! Definitely going on my TBR.
---
Ship of Magic
Ship of Magic by Robin Hobb is the first book in a trilogy called The Liveship Traders. The blurb says that Bingtown is a hub of exotic trade and home to a merchant nobility famed for its liveships—rare vessels carved from wizardwood, which ripens magically into sentient awareness. Now the fortunes of one of Bingtown's oldest families rest on the newly awakened liveship, Vivacia. For Althea Vestrit, the ship is her rightful legacy. But the fate of Althea and the ship may ultimately lie in the hands of a ruthless buccaneer who plans to seize power over the Pirate Isles by capturing a liveship and bending it to his will.
What's really interesting about this is that the ships are magical. They can speed themselves up once three successive generations of a family line have died on board. The ship is about to gain its third generation making Vivacia a very very valuable ship. Throw in a ruthless buccaneer, battles, treachery, family-you-can't-trust and you have here a really cool adventure, written by one of the world's best authors that is followed by two other books in this trilogy, The Liveship Traders.
The three books all have ratings around the 4.20 mark and if you'd like to add them to your Goodreads TBR (like me) then click here. If you'd like to purchase these books, you can get signed copies at The Broken Binding here – remember to use the code BLURB5 to save money on all your orders!
---
Dark Shores
Dark Shores by Danielle Jensen is a YA Fantasy series that has it all. High seas adventure, blackmail, and meddling gods. This story follows two characters as they deal with problems they can't contain.

Teriana is the second mate of the Quincense and heir to the Maarin Triumvirate. Her people are born of the seas and the keepers of its secrets, but when her closest friend is forced into an unwanted betrothal, Teriana breaks her people's mandate so her friend might escape—a choice with devastating consequences.

Marcus is the commander of the Thirty-Seventh, the notorious legion that has led the Celendor Empire to conquer the entire East. The legion is his family, but even they don't know the truth he's been hiding since childhood. It's a secret he'll do anything to protect, no matter how much it costs him – and the world.
Forced to work together lest things for them get worse, they need to decide how far they are willing to go to help one another and how much they are willing to sacrifice. This is a YA story that is the first in a four book series that focuses on the sea and the secrets it carries. The Goodreads rating is 3.96 and you can add the four books (and the fifth prequel) to your TBR here. You can buy Dark Shores from Amazon UK and Amazon US.
---
Where Loyalties Lie
I didn't know about this book and I really should have because I have Rob's three Mortal Techniques books (the fact I haven't read them yet is not the point!). Where Loyalties Lies actually won Mark Lawrence's SPFBO (Self Published Fantasy Blog Off) competition. High praise indeed!
This is the first book in the Best Laid Plans duology and continues the story of the main character Drake Morass from the trilogy, The Ties that Bind (first book here). This is a very much grimdark book and not nice and friendly like The Pirates of the Caribbean movies.
In this book Drake sees a chance to unite the pirate captains and become king of them all however there is another who has also seen this opportunity and wants to take it for themselves. If you'd like to add this book to your Goodreads TBR then click here – just remember that this is set after the events of another trilogy so you might be best reading that first. (This book is on Kindle Unlimited too!)
You can buy a copy of this book from Amazon UK or Amazon US.
---
Daughter of the Pirate King
Daughter of the Pirate King is a YA Fantasy story and a debut story from Tricia Levenseller. The story follows seventeen year old Pirate Captain Alosa who is sent on a mission to retrieve an ancient hidden map—the key to a legendary treasure trove. Alosa encounters an enemy ship but deals with the crew easily dispatching them however it is the unfairly attractive first mate who causes her the most problems. But not to worry, for Alosa has a few tricks up her sleeve, and no lone pirate can stop the Daughter of the Pirate King.
I've added this book to the list because some people will want a bit of romance in their books and some of those reading this article will enjoy a YA pirate story. This is the first book in a duology and if you want to add this book to your Goodreads TBR you can do so here. You can purchase a copy of this book from Amazon UK and Amazon US.
---
India Bones and the Ship of the Dead
India Bones and the Ship of the Dead is the first book in a thrilling new pirate fantasy series for teenagers and adults, featuring the adventurous exploits of the young India Bones in an exotic yet dangerous world as different from our own as it is similar.
I caught this book because the reviews I saw all said it was fun, adventurous and full of action. There are pirates, ports, skeleton pirates, cool characters, great writing, good settings and creative worldbuilding. Reviewers have said this book is like Pirates of the Caribbean meets Indiana Jones. One also cited The Witcher as an influence too. It has had 72 ratings on Goodreads so isn't at the 100 review mark yet but sits with a score of 4.13.
For me this book sounds like a really cool, underrated, pirate adventure about a young lad who wants adventure and gets more than he bargained for. The cover does not do this book any favours (sorry Set!) and I know there is a different more colourful one that actually looks quite cool but didn't want to use that one as felt this was more 'pirate'. I've added this to my Goodreads TBR and you can do that too here (and also see the other, more colourful cover). You can get a copy of the book on Amazon UK and Amazon US.
---
The Bone Ships
So The Bone Ships doesn't exactly have pirates that I'm aware of in the traditional sense but it does have ships made from the bones of dead sea dragons so give me some rope.
For generations, the Hundred Isles have built their ships from the bones of ancient dragons to fight an endless war. The dragons disappeared, but the battles for supremacy persisted. Now the first dragon in centuries has been spotted in far-off waters, and both sides see a chance to shift the balance of power in their favour. Because whoever catches it will win not only glory, but the war.
All I've ever heard about these books is that they have fantastic prose, that they are highly imaginative with a focus on naval warfare and of course there is a huge bloody dragon. The worldbuilding in this trilogy is also told to be amazing and the more I write about this book the more I want to read it desperately. For those of you worried about a completed trilogy, worry no longer – the third book is due out September 28th 2021. You can add this book to your Goodreads TBR here.
If you'd like to purchase a copy of this book from the fantastic The Broken Binding then you can do so here (Don't forget to use the code BLURB5 to get money off all your orders).
---
On Stranger Tides
On Stranger Tides by Tim Powers could be the epitome of a pirate fantasy story. It follows the story of John Chandagnac who is sailing to Jamaica to claim his birthright from his Uncle when his ship is commandeered by pirates. John is given a choice by the captain to join them and become a pirate or die. John decides that being a pirate must be better than death and quickly finds himself living the pirate life as he helps chase down treasure hordes, fight enemies and fall in love while following Captain Blackbeard and his crew of living and dead as they search for the legendary Fountain of Youth.
The reviews point this to be the inspiration behind the majority of the Pirates of the Caribbean movies (not sure if completely true but they do share the same name of one of the movies) because of the comparisons. There is plenty of swashbuckling, naval battles, pirate captains, skeleton crews, treasure and adventure. The story sits at 3.85 on Goodreads after over 8,000 ratings and you can add this to your Goodreads TBR here.
You can buy a copy of this book from Amazon UK or Amazon US.
---
As I researched books that had similarities to Assassin's Creed IV: Black Flag I found that there were overall a lot of pirate stories. Of course it would have been very hard to choose ones that had assassins and pirates so I went for stories that had pirates and magic or ships and naval battles. I'm pleased with the list I've created. There are some very well known books on here and some lesser known ones. Hopefully I have helped give you at least one book to add to your towering TBR! If there are any pirate books you've enjoyed that aren't included then let me know in the comments below!
If you like science fiction and fantasy books then consider joining The Oasis Discord here – it's free and has a great community, buddy reads, community reads and much more!

I'll see you next Saturday for a new So You've Played!