Welcome to a new series called 'So you like' where I am going to be recommending books for you based on a certain topic/genre/feature. This is a development on the previous 'So You've Played' series where I recommended books if you'd enjoyed certain games. You can find those previous articles here.
---
East Asian inspired fantasy is essentially what you might know as Asian fantasy. I've seen some Asian authors speak out against the term Asian Fantasy so I'm trying to use the term East Asian inspired Fantasy instead. The reason I haven't called this 'So you like Asian inspired Fantasy' is because Asia is the biggest continent in the world and holds 2/3 of the world's population. I don't think listing eight countries worth of author's work under this term is fair to anyone so that is why I have changed it. The countries that make up East Asia are: China, Hong Kong, Japan, Macau, Mongolia, North Korea, South Korea, and Taiwan.
This week I am diving in to recommend you the best East Asian inspired Fantasy books you can read so let's get into it!
---
The Green Bone Saga
The Green Bone Saga by Fonda Lee features three books. The first two, Jade City and Jade War are out now to devour and the finale, Jade Legacy, is out at the end of November so it's the perfect time for you to get into this series.
Jade City is a story about two clans. The Mountain clan and the No Peak clan. They do not like each other, they fight, kill and claim territory from one another. There are consequences for messing with a clan. What makes this a fantasy book though is jade. It's a gem but in Fonda Lee's gangster inspired story this gem gives the wearer strength, speed and power. Jade is earned by taking it from enemies and it can be imbued in jewelry and weapons to give the holder power.
At the time of writing this article I have only read Jade City but own Jade War and have Jade Legacy on pre-order. The fact that this is the first book (series) that I am recommending to you on this brand new article should tell you how amazing Jade City is. I reviewed it on my YouTube channel over a year ago and gave it 5 stars.
What makes this book so good is the characters and the fact that each of them have different goals but each character's goal is at the detriment of someone else's goal. The clans are laid out in a really good way too. The ranks have unique names that make it easy to understand who sits where and this removes any potential confusion. There are some really unique characters in here. Some of them you will love and some you will hate to love.
The magic in this book is great because it's not just the fight scenes (these are really well done) but it's the effect jade has on the people in the story. People who have it feel confident and above everyone else and those that don't have it live in a jealous world of squalor and deceit, trying to get their hands on some using any method possible…
If you want to read a fantastic series with a modern take on East Asian culture and a unique magic system that makes every encounter exciting then pick up Jade City! You can add these to your Goodreads TBR here.
---
The Lotus Wars series
The Lotus Wars series by Jay Kristoff is actually a set of 6 books (3 novels and 3 novellas) and I actually wanted to include this in my 'So You've Played Ninja Gaiden' post but I didn't because there is some controversy surrounding these beautiful looking books. I'll tell you about this issue now in case it puts you off.
Jay's execution of a Japanese inspired world is thought to be potentially distasteful and stereotypical. If you think this might put you off then obviously don't read it. I'm just giving you fair warning.
Now this series, starting with Stormdancer not only looks incredible (UK covers I think) but sounds brilliant. I am only going to tell you about the first book since I haven't read them yet and I don't want to read book 2/3 blurb and see spoilers.
So the story follows a girl and her father who are sent to retrieve an animal for the local Lord. The animal is thought to be extinct so how can they bring it back and failing the Lord of the Shima Isles never ends well. However, Yukiko finds one and soon finds herself stranded in the wilderness with a thought-to-be-extinct Arashitora. Yukiko and the beast form a bond neither of them expected.
Meanwhile, the country around them verges on collapse. A toxic fuel is choking the land, the machine-powered Lotus Guild is publicly burning those they deem Impure, and the Shõgun cares for nothing but his own dominion. Authority has always made Yukiko, but her world changes when she meets Kin, a young man with secrets, and the rebel Kagé cabal. She learns the horrifying extent of the Shõgun's crimes, both against her country and her family.
Returning to the city, Yukiko is determined to make the Shõgun pay – but what can one girl and a flightless Arashitora do against the might of an empire?
This sounds soooo good! I wonder if people don't speak about this series because of its culturally incorrect portrayal or if people jumped on the Nevernight trilogy since that came out after this one. Either way this is on my TBR and if you want to add it to yours then click here.
---
The Dandelion Dynasty quartet
Right. This is not the full collection of books (Grace of Kings, The Wall of Storms, The Veiled Throne, Speaking Bones) but there is a reason for it. Book 3, The Veiled Throne is out November 2021 and then book 4 is due out in April 2022.
The photo I've used is a bit naughty. It's from The Broken Binding who are an independent bookstore online and they secured this fantastic limited (352 copies) edition. I was lucky enough to get one and I am really looking forward to reading this series. They are giving matching numbers and copies to those who ordered this trilogy so don't fear.
In this story we follow two main characters. We meet wily, charming Kuni Garu, a bandit, and stern, fearless Mata Zyndu, the son of a deposed duke and they seem like polar opposites. Yet, in the uprising against the emperor, the two quickly become the best of friends after a series of adventures fighting against vast conscripted armies, silk-draped airships, and shapeshifting gods. (sounds really cool right?) Once the emperor has been overthrown however, they each find themselves the leader of separate factions—two sides with very different ideas about how the world should be run and the meaning of justice.
This is kind of a rebels to friends to enemies to we don't know yet because he hasn't released book 4 kind of cliche and I know it's super popular /s but this might just be different so give it a try because Ken was actually born in China and has won Nebula, Hugo and World Fantasy Awards. Ken Liu has described the genre as Silkpunk and you can find out what he means by this here. If you fancy giving these a try, you can add these to your Goodreads TBR here.
---
The Poppy War trilogy
If you have not heard of The Poppy War trilogy then well done for winning the world championship of 'hide and seek'. This series, for better or worse, picked up a huge traction of comments over the last couple of years and opinions.
Some people absolutely adore the book, the writing and the characters however some people can't stand the main character. I've yet to read it and I have a copy of The Poppy War in front of me as I write this post up.
Personally I am really intrigued. It's got a lot of hype so it makes me interested. The covers look awesome, the author has won awards for it and when you see a list with "Asian Fantasy" you will normally see this book so I owe it to myself to read it and if you feel the same way, you can add it to your Goodreads TBR here.
---
The Sword of Kaigen
This is The Sword of Kaigen and if you haven't heard of it then you may be fortunate depending on how you look at it. If you look at it from my point of view then you're fortunate because I had to DNF this at 63%. However, if you are like the majority of readers then you will probably love this story.
This should go to show that I am completely unbiased here because I gave this 3 stars and DNF'd it but a lot of people give this 4 or 5 stars. The story follows 14 year old Mamoru and his mother, Misaki. They live on the Kusanagi Peninsula and their ancestors have held the Empire's enemies at bay, earning their frozen spit of land the name 'The Sword of Kaigen.'
The story has flashbacks for Misaki and this is where I enjoyed the story the most since it's like Asian superheroes with powers but fast forward to motherhood and Misaki is a housewife under strict cultural boundaries. The story tells us about Misaki and Mamoru's lives living on the Peninsula, training to defend their lands from the Empire's enemies and their own relationships with one another, focusing on love, heritage, honour and discipline.
There are parts of the story I liked a lot but so much of it felt like a Japanese version of Eastenders and I felt it climaxed early. It does sit on Goodreads with an average rating of 4.46 though so this may be that it's a case of me and not the book. You can add this to your Goodreads TBR here.
---
Shadow of the Fox trilogy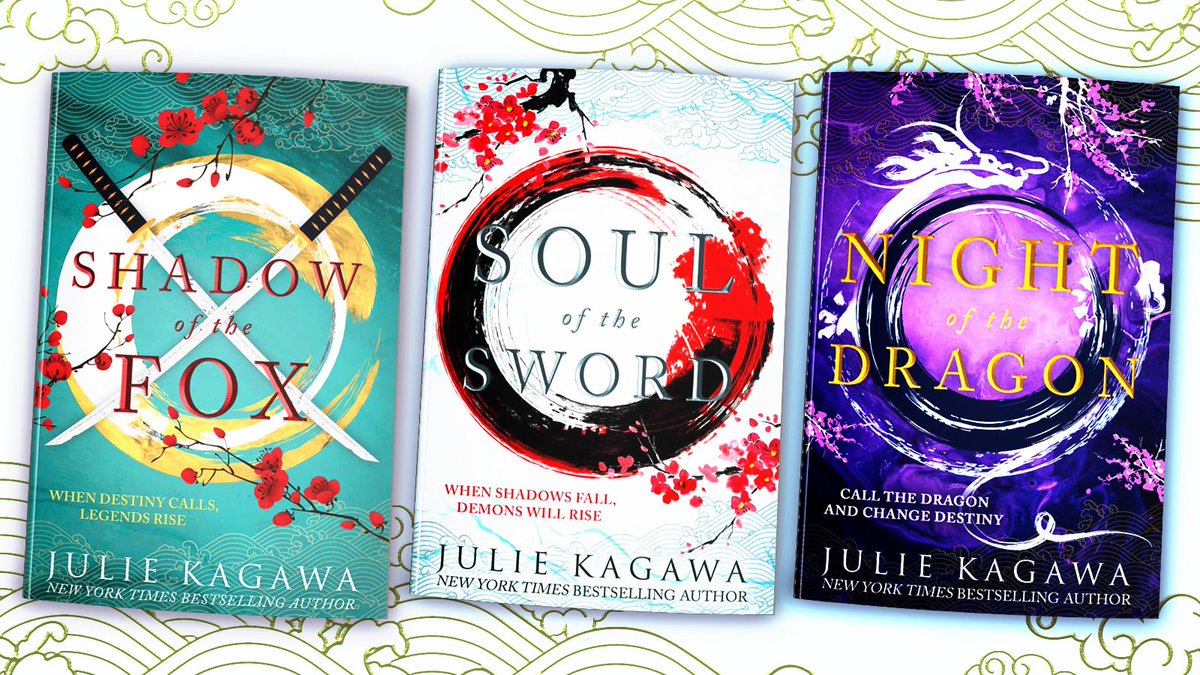 The Shadow of the Fox trilogy by Julie Kagawa is a series I've wanted to read for ages. I have the first one on my Kindle but haven't started it yet (like so many others).
The story is about a half kitsune, half human girl called Yumeko. She is raised by monks in a temple but has to hide her yokai nature from them. One thousand years ago, the great Kami Dragon was summoned to grant a single terrible wish – and the land of Iwagoto was plunged into an age of chaos and darkness.
The blurb for the first book goes on to say that there are many who would claim the dragon's wish for their own. Kage Tatsumi, a mysterious samurai of the Shadow Clan, is one such hunter, who has orders to retrieve the scroll…at any cost. Fate brings Kage and Yumeko together. An uneasy alliance if formed after Yumeko promises to lead Kage to the scroll. This brings Yumeko survival but what Kage seeks is hidden away, and her deception could ultimately tear them both apart.
I haven't looked up the blurb from books 2 and 3 for obvious reasons but this just sounds really cool. Apparently it's considered by many to be YA so bear that in mind if you're not a fan. If you want to add this to your Goodreads TBR then you can do so here.
---
The Drowning Empire trilogy
The Drowning Empire trilogy is currently only one book with the second one out for general sale in 4 weeks (Nov 9th). The final book, The Bone Shard War, doesn't a release date set but I would hazard a guess it will be around October 2022.
The first book is another one I have one my shelf, this time in hardback. I heard the story about how there is an emperor and this emperor's reign has lasted for decades. He has a mastery over bone shard magic which he utilises to power animal-like constructs that maintain law and order in his kingdom. But now his rule is failing, and revolution is sweeping across the Empire's many islands.
The protagonist, Lin, is the emperor's daughter and spends her days trapped in a palace of locked doors and dark secrets. When her father refuses to recognise her as heir to the throne, she vows to prove her worth by mastering the forbidden art of bone shard magic. The same magic that he controls to rule the lands.
Yet such power carries a great cost, and when the revolution reaches the gates of the palace, Lin must decide how far she is willing to go to claim her birthright – and save her people.
This story features a new magic style, LGBT rep, mechanised constructs and East Asian inspired themes. The author, Andrea Stewart, is Chinese-American. If you would like to add this well received book to your Goodreads TBR, click here.
---
The Girl King series
This series currently has two books out and while it sounds to be YA, the author has listed it as an Asian inspired high fantasy' story.
This story follows two sisters, Lu and Min. The two have always understood their places as princesses of the Empire. Lu knows she is destined to become the dynasty's first female ruler, while Min is resigned to a life in her shadow. Then their father declares their male cousin, Set, the heir instead – a betrayal that sends the sisters down two very different paths.
Determined to reclaim her birthright, Lu goes on the run. She needs an ally – and an army – if she is to succeed. Her quest leads her to Nokhai, the last surviving wolf shapeshifter (how good does this bit sound by the way). Nok wants to keep his identity secret, but finds himself forced into an uneasy alliance with the girl whose family killed everyone he ever loved…
Meanwhile, alone in the volatile court, Min's hidden power awakens—a forbidden, deadly magic that could secure Set's reign…or allow Min to claim the throne herself. But there can only be one Emperor, and the sisters' greatest enemy could turn out to be each other.
This has political intrigue, shapeshifters, magic, two sisters, no love triangle but potentially a small amount of romance. The second book in the series is called Empress of Flames and came out this year in August. I've added this first book to my TBR because I am intrigued. It came out over 2 1/2 years ago and has less then 2,000 ratings so it's kind of a hidden gem. If you want to add this to your Goodreads TBR, click here.
---
This has actually been a tough list to curate. I didn't want to have an overbearing amount of non-East-Asian authors in here but I also didn't to fill it with YA because I feel that my blog is aimed at an older reader. With that being said, I actually like YA but don't read much of it so I think there is just the one title in here. I also found so many titles had a romantic based story plot and I didn't want to put lots of them in this article because personally romance isn't my go to with fantasy. I've also tried to find some lesser-known East Asian fantasy books to go with the bigger, more well known ones. Let me know if you have added any of these to your TBR!
Appreciate that these are the books I am looking forward to reading and are thus recommending them to you. You can only recommend shows that you are aware of and shouldn't get jumped on for not knowing everything that is out there. If there is an East-Asian inspired fantasy book that I've missed that doesn't have romance and isn't YA, let us know in the comments or over on Twitter.
If you like science fiction and fantasy books then consider joining The Oasis Discord here – it's free and has a great community, buddy reads, community reads and much more!
You can follow me on Twitter @BookishBenny for more Sci-fi and Fantasy tweets, deals, blog posts and other book related shenanigans.